As a member of the Payson Fire Department since 1995, and a paramedic since 1993, Dawn Zurcher is committed to making her Arizona community a safe and caring place to live.
Ms. Zurcher leads by example in demonstrating the power of volunteerism. Especially devoted to the education of children in safety and service, Dawn helped to develop and implement Paysonís first formal school program to teach youngsters positive behaviors in fire safety and injury prevention.
Creating a colorful and dynamic persona as "Edith the Clown," Dawn suits up in a clown costume and makeup to attend school functions, health fairs, and community events where citizens, young and old alike, can be entertained while learning about safety.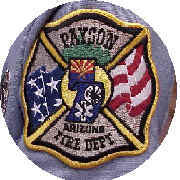 Dawn was instrumental in founding a neighborhood cleanup program which has grown steadily over the last four years. She also takes an active part as a team member in an annual wheelchair basketball tournament to raise funds for programs for the disabled. Keenly aware that early warning can save lives, Dawn developed a program to fund and install smoke detectors in area homes without them.
Teamwork is a critical factor in the effectiveness of firefighting and emergency services. In consideration of her colleagues, Dawn also established the Critical Incident Stress Debriefing Program (CISD), a tool for counseling emergency personnel after an especially traumatic or emotional event.
Courage, compassion, and dedication are the characteristics that define emergency personnel working in Arizona. They are the traits that continue "Firefighting as an Enduring Tradition." Dawn Zurcher demonstrates these traits every day in her commitment to her communityís well being. Honored as Paysonís 1999 Firefighter of the Year, we are very proud to present her with the Symbol of Excellence Award as the 1999 United Fire Firefighter of the Year.