Eric Rotter is committed to our youngest burn survivors:
During the times of the Crusades, the Knights of St. John became known for their courage and commitment to their community as they fought fire, saved lives, and ministered to burn victims on the field of battle. Wearing the symbol of the Maltese Cross for identity, these extraordinary individuals were honored and respected by friend and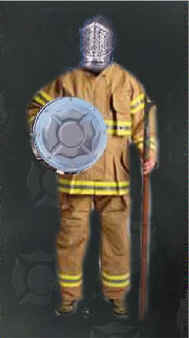 foe for their compassion. This symbol of the Maltese Cross has been carried down through the ages to become the modern symbol of America's firefighters.
This year, we honor an Arizona firefighter who has displayed an enormous capacity for compassion and commitment to the youngest burn survivors of our society. Eric Rotter, of the Tucson Fire Department, has been named the 2001 United Fire Firefighter of the Year.
Mr. Rotter is a full-time firefighter who gives an enormous amount of volunteer time to the Arizona Burn Camp, a nationally known camp for over 100 children who have survived devastating burns. As a camp counselor, and now a director of the camp, Mr. Rotter not only helps to organize the activities, he is responsible for recruiting more volunteers, and securing donations of supplies and dollars to sponsor individual children to attend the camp. He also raises funds for a pediatric burn unit at a Tucson hospital, often offering his help with psychological and social support programs for these young burn victims. In addition, he helps with the "Young Eagles" flight training program for children, finding equipment donations and even driving the students to the flight field, using his personal vacation time. Eric Rotter dedicates himself to supporting life safety education, both on the job and off.
Commitment, courage, compassion, and community are the foundation of the code that defines firefighters and emergency personnel working today in Arizona. They are the traits that identified long ago Knights of St. John, whose firefighting and life saving work during the Crusades earned them the accolades of their peers. Eric Rotter demonstrates these traits every day in his commitment to his community's well being. We are very proud to present him with the Symbol of Excellence Award as the 2001 United Fire Firefighter of the Year.